In the winter of 2013, two Cherry Road School Teachers and two Cherry Road Residents joined forces to create the "Paint Westvale Purple" 5K. It was originally a team fundraiser for the Solvay-Geddes-Westvale Relay for Life that would be happening in June that year. The name "Paint Westvale Purple" reflected the close involvement with the American Cancer Society and their notable "Paint the Town Purple" events.
The first PWP was organized in about three months by those four people who had entered and run races before, but never dreamt of organizing one of their own. With the crucial help of the Westhill Central School District Board and the local chapter of the American Cancer Society, we hosted a 200+ person 5K Run/Walk at Cherry Road School in Westvale, NY. We somehow covered our expenses and donated a few thousand dollars to Relay for Life.
Over the years, PWP has grown, with the 2016 event hosting nearly 400 participants and donating $10,500 to three local charities. Funds distributed through PWP since its inception now total over $30,000!
PWP is now organized by the Westvale Road Runners Club, which operates with a 6-person Volunteer Board and many additional volunteers. As a result of forming this entity we are able to award funding to more than one charity. Over the years we have been honored to raise funds not only for the American Cancer Society, where it all began, but also to some other local groups.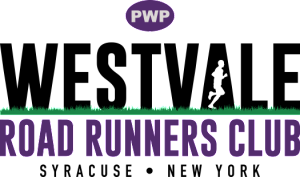 For the 2017 event we have made arrangements to donate the proceeds of the race to the following three organizations:
1. Westhill Educational Foundation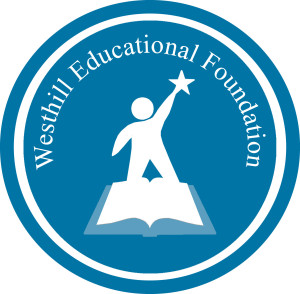 2. American Cancer Society/Solvay-Geddes-Westvale Relay For Life
3. Finger Lakes Donor Recovery Network (Donate Life)

For the 2016 event we held an essay contest through Onondaga Hill Middle School to determine one of our charitable recipients. The winning essay was submitted by Abbi Walsh and the winning cause was Mended Little Hearts of Syracuse. Thank you to Abbi and all the other students who shared in our passion of doing good in our neighborhood.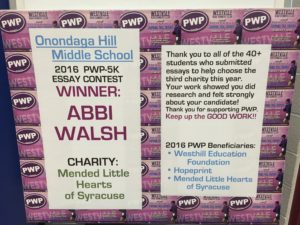 We look forward to bringing PWP to you for years to come and building on this wonderful neighborhood event that does some good.